In 1909, Grandmaster Huo Yan Jia the founder of Chin Woo, defeated a European wrestler in Shanghai and became a national hero. This event lead to the start of the Chin Woo movement which has since spread worldwide.
In November 2010, Shanghai hosted the 11th Chin Woo World Championships marking 100 years of Chin Woo history. The New Zealand team joined others from Shanghai, Tianjin, Malaysia, Poland, Switzerland, USA, Australia and the UK to compete and participate in cultural festivities.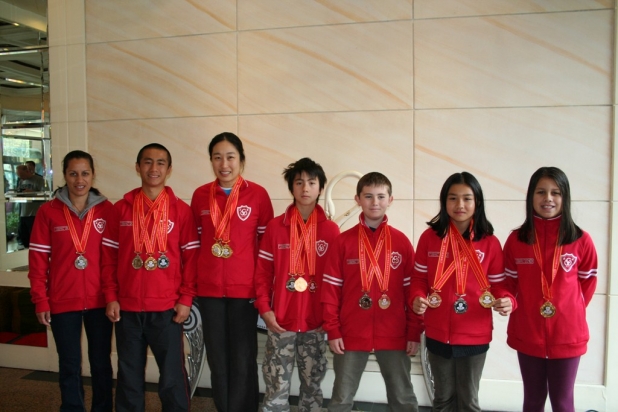 An invitation to Tianjin
The centenary celebration of Chin woo history was marked by the colossal construction of the Huo Yuan Jia Museum and Mausoleum in Tianjin. A vast courtyard welcomed us and standing majestically above was a 20 meter high statue of Huo Yuan Jia himself. The design of the museum building was of the yin and yang symbol when viewed from above. The towering central marble pillars and dragons wrapped around them was a sight to see. The finishing touches were still being put on the landscaped gardens which were beautiful and the perfect surrounding for the mausoleum.
Competition in Shanghai
We were privileged enough to be given the opportunity to train with the Tianjin team when all the teams were trying out the competition mats. It allowed the NZ team to have a eye opening experience of what Coach Guo has always meant by saying "lower", "more power" , and "kuai yi dian!" – faster! It was an experience that gave the NZ team inspiration to train harder and to understand what wushu really is at an international standard. As Chinwoo members it also gave us the understanding of what "one family" really meant. Friendships were made through the common bond of smiles, laughs, and martial arts. The competition was a wonderful experience where people helped and supported each other and where your next competitor stood along side you and shouted "jia you" for your support and this was reciprocated. It also gave us the opportunity to see familiar faces from previous competitions and meet new ones which we will hopefully see in the years to come.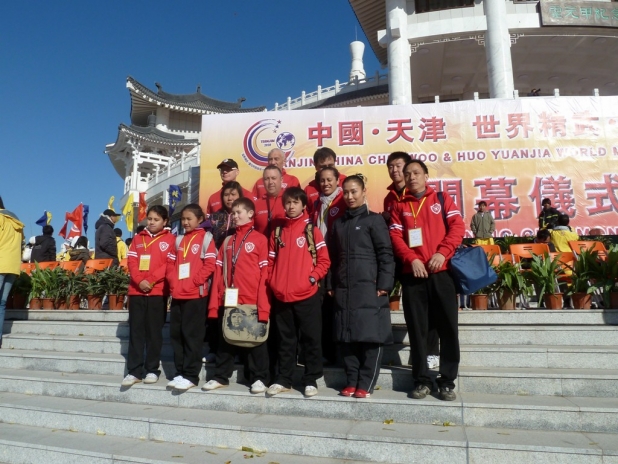 At the conclusion of the competition we were taken to the shanghai Chin Woo head quarters with a museum show casing the history of Chin Woo. This was followed by teams around the world sharing and demonstrating their martial arts skills. We were once again reminded of why we call Mr. Guo "coach", as at the spare of the moment he borrowed a pair of Feiyue shoes which were 2 sizes to small and proceeded to give a breath-taking performance with no warm up and in his dress clothes. "Coach" showed all the "young fellas" how its done, and the amount of respect he had earned through his years of being a professional wushu athlete was clear. As his students we can really appreciate how much of a world class coach we have.
To top it all off we spent our nights exploring Shanghai. We managed to find our way down to the famed Bund, which is filled with century old European architecture. It was interesting to see such a diverse blend of Chinese culture and western architecture. It allows one to appreciate why there was such a conflict between western and eastern cultures, the image of the "sick and weak man of the east" which historically lead to the founding of Chin Woo.
It was a fabulous trip with interesting eye opening experiences and friendships that one will remember for a life time.