Chin Woo New Zealand Inc (Chin Woo NZ) needs a magazine cover for its upcoming 2012 edition!
We're inviting you to get on board and design this year's magazine cover for us! The cover design competition is open from 4 June 2012 to 31 July 2012.
The Competition's Events page is on facebook, follow this link.
Competition Rules
Eligibility
The contest is open to all Chin Woo NZ members except the panel who are judging the competition and therefore are not eligible.
Contest Rules & Guidelines
Participants can email their entries to davidchan@orcon.net.nz or drop their entry into Martial Arts Supplies, Level 1, 45 Courtenay Place, Wellington
Participants may submit a digital magazine cover or a paper magazine cover.
Entries must include the full name and contact details of the participant.
All entries are due on the 31st July 2012 at 12 midnight. Any entries submitted after the due date and time will not be accepted.
Submitted covers must have the words "Chin Woo New Zealand", must have a connection with the year of the Dragon and New Zealand.
Entrants can enter an unlimited number of entries.
Entry is free of charge.
Intellectual Property
Submissions must be the original creations of the entrant. If a particular submission violates any copyright laws or is not the original work of the entrant, the entrant will be immediately disqualified from the competition.
The winner of the competition transfers all intellectual property rights in relation to their winning entry, to Chin Woo NZ.
Chin Woo NZ reserves the rights to edit the winner's artwork if and when necessary and to display the cover publicly on Chin Woo New Zealand's website, Facebook page, printed materials, any signage, and in any other way or place that Chin Woo New Zealand determines.
Judging and Selection of Winner
The magazine cover competition will be judged by the Chin Woo New Zealand Judging Panel.
Decisions made by the judges are final.
Entries will be judged based on overall creativity, concept, visual impact, as well as the appropriateness for use as a magazine cover.
The judges reserve the right to not adopt the winning cover page as the cover page of Chin Woo NZ's 2012 Magazine.
Prize
The winner will receive the official commemorative Stamp Collection celebrating the 50th Anniversary of the popularisation of Simplified Taijiquan. More photos are at "Chin Woo Event Facebook Page"
The winner will also be profiled on our website www.chinwoo.org.nz and Facebook page.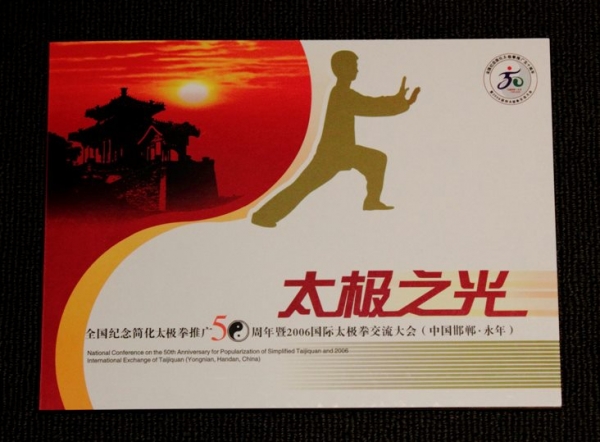 Acceptance
Entering the contest constitutes the participant's agreement and acceptance of the rules and regulations for the Chin Woo NZ Magazine Cover design contest outlined above. Any participant who violates any of the competition rules in any way will be immediately disqualified from the competition.